Blood Clan on Siege Perilous again has taken the fight to the murderers. Last night, the area around Vesper was filled arrows, blades, and magic. BLD fought several guilds including FjP, DC, ToM, CE, and TPE.
I must say that it was a good night of combat. I didn't see reskilling and several different combat styles were seen including mages, tamers, poisoned melee fighters, and archers. BLD had a great time and we hope others did as well.
While the images mainly show our opponents dieing, have no doubt that BLD fighters died many times. Every BLD probably died more than once, but we just keep kept on fighting. The joy is in the victory, there is no pain in dieing.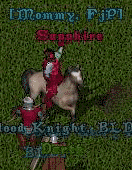 We began the night on a little patrol outside Covetus dungeon. Our friend, Grappler, seen previously stopped by to visit. We all ran up and gave him a hug.

Next, Sapphire of the Foo Jacking Pimps (you must love that name) dropped by. He ran circles around us for a while before leaving. We need horses to catch these guys.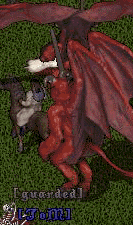 Our killing of a ToM member brought out a couple of ToM mages to seek revenge. Out of a gate popped two mages, each with two demons in tow. Needless to say, the four demons took several BLD to the world of Monochromania.

Dispel casting mages, please join BLD, we need you.