The Verdugo Park Cache
N 34° 10.357 W 118° 13.910

After a couple busy weeks, we took Saturday to do a couple caches.
I gathered the details on two nearby caches in Glendale and prepared our
gear and cache items. Mira decided to stay home with Michele, but Zoe was
game to go out on the hikes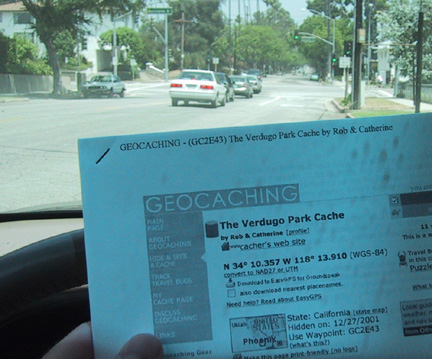 We hit the road. It was hot out, so we were sure to stop and pick
up water and hiking food in town. Zoe chose sour worms and cool ranch Doritos.
I was a bit less daring and chose a pack of salted cashews.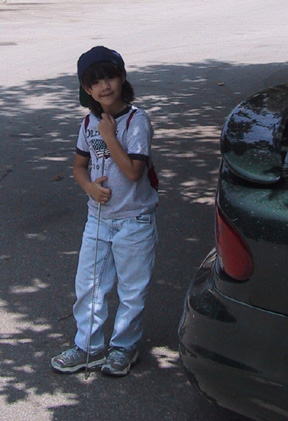 Here is Zoe in the parking lot wearing my old Dodgers cap.
I had just bought a new one and Zoe wanted to wear my old one.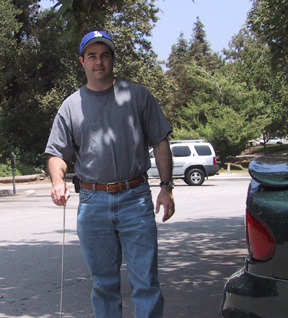 I'm ready to go as well. Zoe took this picture.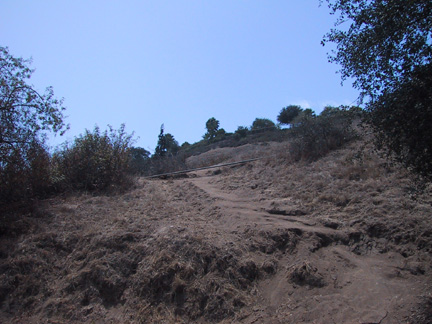 It was a fairly short hike. Here is looking up the trail toward the cache.
It is a bit steep, but Zoe wasn't afraid.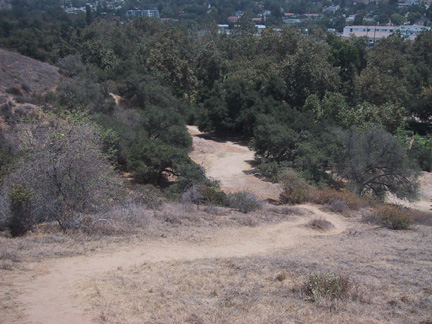 Looking back down the hill.
We walked past the cache to the top of the ridge before I realized.
I hadn't been looking at the GPS, I just assumed it was up top.
Nice view from up top. We found the cache on our way back down the hill.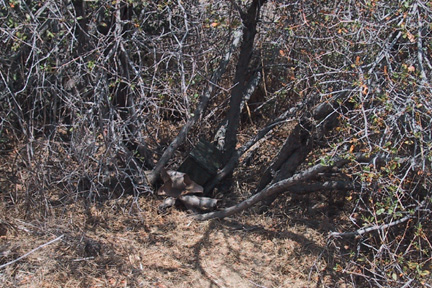 Here it is, hidden in a bush.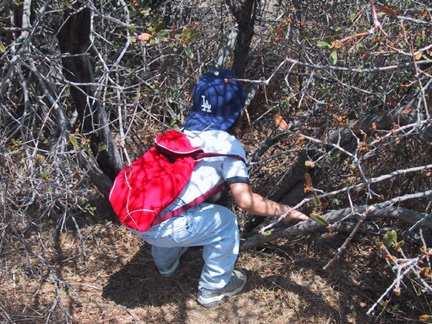 Using my managerial skills, I delegated Zoe as Official Cache Retriever.
She was happy oblige.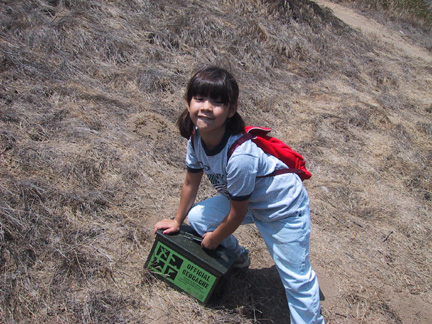 Zoe with the cache.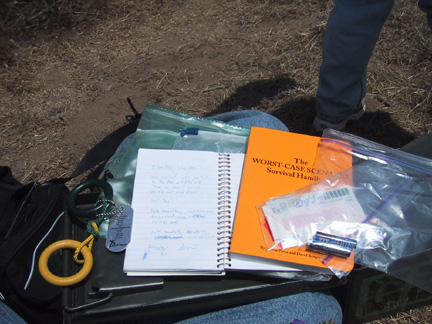 The ammo box was chock full of interesting things.

I was please to find the Puzzle - Bilateral Travel Bug inside.
I wasn't sure if there were any instructions for the travel bug,
but I decided to take it to our next cache.

We left a bag of band-aids, two AAA batteries, and a worst case survival book.
We took small blue car, dragon's blood incense, and the handmade celtic soap.
The incense made the box smell nice. Special thanks to those who left it.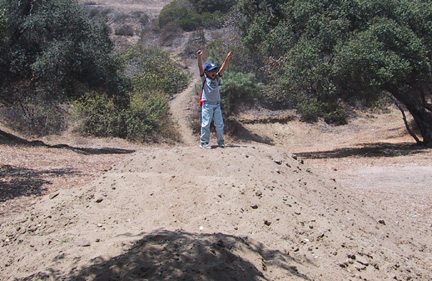 We walked down the hill and Zoe played King of the Hill
on the large mounds of dirt. After this we played on in the park a bit
before heading out.
Next we were off to Cache 14.